Stop being an ordinary physical therapist,
Redcord is not ordinary...
May 16th-17th, 2020
Atlanta, GA.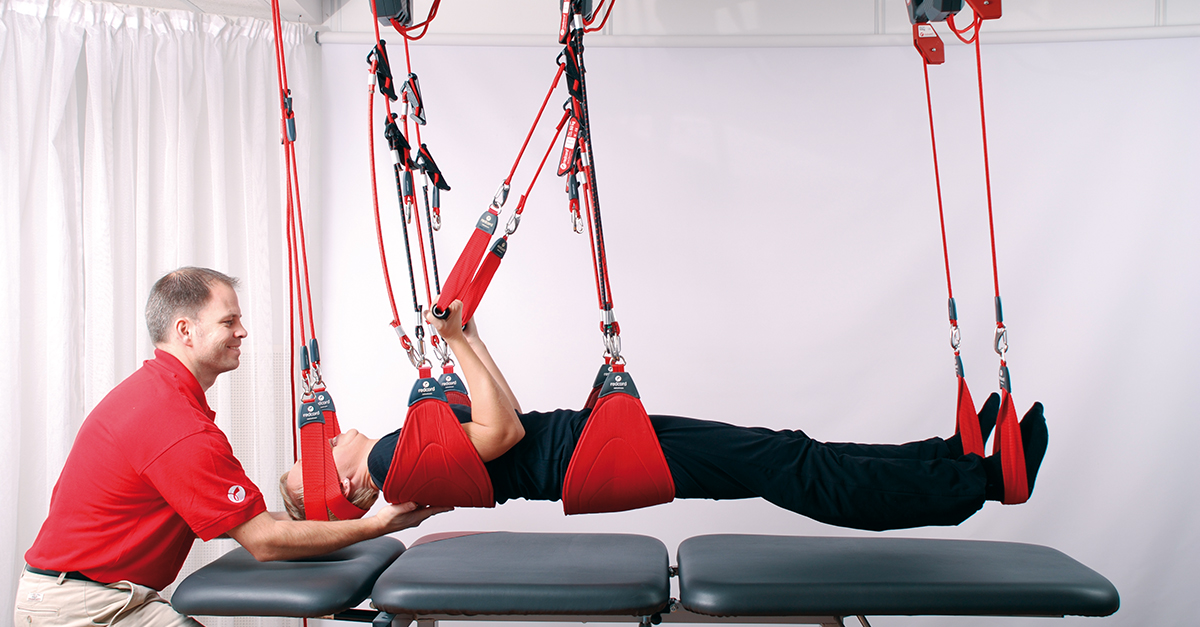 When the mind and the body connect correctly, the effect is surprising. The Neurac method returns the active life of your patients, eliminating pain, improving the connection between muscles and nerves in a process called neuromuscular activation.
Our method has a standardized test system to find muscle deficits and abnormal movements that may be contributing to the cause of pain in the patient. The application of a suspension treatment combined with high levels of neuromuscular stimulation will help restore stability, motor control and strength.
While the patient is in the Redcord Workstation suspension system without weight, the therapist accelerates motor learning, allowing neurons in the brain to be more energized and more efficient in their work. Similar to floating in a pool, this pain-free environment is safe for any age, condition and level of strength and allows you to focus on each movement pattern accurately.
Courses for Physical Therapists, Occupational Therapists, Physical Therapy Assistants, C.O.T.A, Medical Doctor, Doctor of Chiropractic, and other licensed health professionals who have credentials in anatomy, physiology, pathology, basic exercise science, therapeutic exercise, and clinical examination of the neuromusculoskeletal system
Who is Neurac II -Vibration for? *PREREQUISITE: have taken the Neurac 1 Course
HOW DO YOU PROCEED WITH PAYMENT?
• Theoretical background, definitions, and principles regarding the
neurophysiology of vibration

• Theory on vibration as a therapeutic modality
• Theory on pain neurobiology and how pain influences neuromuscular control
• Theory on the effect of vibration to modulate pain
• Theory on principles related to how vibration is used to enhance Neurac treatment
• Contraindications and precautions when using vibration as a therapeutic modality
• Clinical practice:
• How to introduce vibration to patients with long-term pain
• How to apply vibration to Neurac treatment techniques to modulate pain and improve
local motor control in the cervical and lumbopelvic regions
• How to apply vibration to Neurac treatment exercises targeting myofascial chains to
modulate pain and improve neuromuscular control for the restoration of functional
movement patterns in the:
• Cervical region
• Lumbopelvic region
• Upper extremity
• Lower extremity
• Clinical reasoning demonstrated and discussed in a case-based setting through
clinical examination, Neurac Tests and Neurac Treatment
Scientific studies have shown that injuries, pain and physical inactivity alter our brain's ability to activate the right muscles with the right amount of force at the right time. This loss of neuromuscular function decreases our "local" central muscle control, often leading to poor movement patterns, joint stiffness, and increased musculoskeletal pain causing our larger "global" muscles to take over (compensate) and ultimately overload, tense and hurt. Redcord Neurac reverses this pattern. The Redcord system stimulates the correct muscles in the correct sequence so that the smaller central muscle can begin to function again and the appropriate movement patterns can be restored.
Years of practical experience
Lifetime access as an auditor of our courses, so you can reinforce your knowledge in the Neurac method.
We have limited spots for auditing.
Saturday 8:00 AM - 4:00 PM
Sunday 8:00 AM - 4:00 PM
3005 Old Alabama Rd. Bldg E Suite 10 Johns Creek, GA 30022
If you need to complete your payment, please contact us at info@redcordamerica.com or by phone at 888-885-1804
Course type: Lecture w/hands on
Maximum capacity 16 people per course
days
hours
minutes
seconds
days
hours
minutes
seconds
Registration closes on May 13th, 2020.
© 2020 Redcord America
By submitting you info, you are accepting our privacy policy